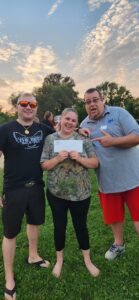 Buck 92.3/AM 830 WMMI, My-1043, & "The Bird Bar & Grills Diggin For Dough" wants to congratulate all of our winners, including our grand prize winner:  NIKKI PETERY – who scored the $1,043 in cold hard cash from the Bird Bar & Grill!
It took all of our contestants a total of 15 minutes to dig in the sand & find all of the golf balls & prizes!
Video to come this weekend…We appreciate all of our local business supporters & all of our contestants and all of you who signed up for the chance to take part in this awesome contest.
We are already looking forward to next years competition! Until then, keep your radios right here to Mt Pleasant's ONLY station for the Legends of Country, Buck 92.3 & AM 830, WMMI!
Local businesses who deserve some love for their donations:
The Bird Bar &U Grill
Dougs Small Engine Repairs
Cops & Doughnuts of Clare & Mt Pleasant
Soaring Eagle Casino & Resort
The Mt Pleasant Jaycees/Beerfest 2022
Domino's Pizza of Mt Pleasant
The Pohlcat Golf Course
Krapohl Ford & Lincoln
The Mt Pleasant Country Club Golf Course 
CONGRATULATIONS TO OUR 20-22 CONTESTANTS:
| | |
| --- | --- |
| JESSICA | FLORY |
| BRITTNEY | HOWE |
| RICK | SCHUCH |
| ABBY | LATOR |
| TROY | SIMMER |
| KATIE | WOODS |
| HEATHER | KANE |
| KENDRA | DeBOSE |
| MACKENZIE | CARMACK |
| NIKKI | PETERY |