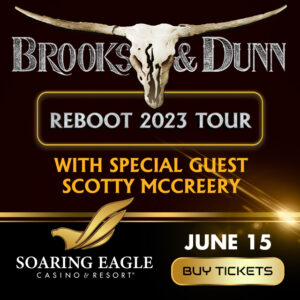 Buck 92.3 & AM 830 WMMI is excited to announce Brooks & Dunn will be coming to Soaring Eagle Casino & Resort on Thursday, June 15, 2023 and we want to set you up with tickets before you can buy them!  Opening act is Scotty McCreery!
Here's how to win…
Go to Facebook.com/Buck92 this week (1/23-1/27/23) and answer our daily Burning Question of the Day.
We'll randomly select a winner who'll receive a pair of tickets to the show "before you can buy them!"
It's that easy!
Tickets for Brooks & Dunn go on sale on January 28, 2023!