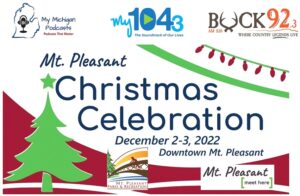 Buck 92, My-1043, MyMichiganPodcasts.com, Mt Pleasant CVB & Mt Pleasant Parks & Rec invite you Downtown on Friday December 2nd and Saturday December 3rd for the Annual CHRISTMAS CELEBRATION!
We kick it all off on Friday (12/2) from 5-8pm on Broadway (btwn Main & Franklin) with the "Winter Market!" Specialty Crafts, food vendors and Candy cane Lane will host a variety of children's games, activities, and live performances on stage. Hayrides and visits with Santa and Santa's reindeer will round out the nights festivities.
Saturday (12/3) fun will pick up:  Jingle-All-The-Way Kids Fun Run (The Adult 5K & 5 Mile Run) starting at Max & Emilys (registration to be completed online). Races begin at 7:50am, 8:25 and 8:30am (proceeds raised will benefit Toys for Tots).
9am – Noon: Pancake Breakfast with Santa at Sacred Heart Parish Hall. $10 admission (for adults, Children 10 & under are $5 – kids 4 & under: FREE). Proceeds benefit the SHA Athletic Association. Tickets can be purchased at the Mt Pleasant Parks & Recreation Office located inside City Hall at 320 West Broadway.
6pm: Celebration continues with the lighted parade starting at Main & Illinois St – continuing down Main & Broadway. B's Music Shop will serve as parade Grand Marshal.
*Registration forms for the Jingle All-The-Way Kids Fun Run, 5 Mile Run & 5K Walk/Run, volunteer opportunities, Winter Market Vendor Application, and parade entry applications can be found by CLICKING HERE! NOVEMBER 16TH is the deadline for market vendor and parade entry applications.