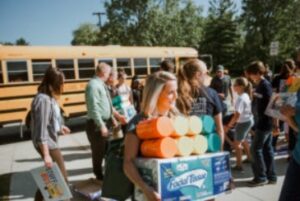 Buck 92, My1043 radio & The United Way of Gratiot & Isabella Counties are celebrating the 21st Anniversary of giving back to our students & teachers with "Stuff the Bus 2022!"
We're looking for your help to provide local teachers the opportunity to put supplies in the hands of kids that need them most – focusing on children from lower income families.
You can "text" the word:  "BUS2022" to 9-1-9-9-9 and make your donation that way!
This years goal is to sponsor the 450+ elementary classrooms in Gratiot & Isabella Counties.  All of our teachers work hard for kids to reach their full potential, so please show your support!
Sponsor a classroom for $100 today!  CLICK HERE to make a donation right NOW!
For more information on the 21st year history of "Stuff the Bus" here in Mid-Michigan, click here!
BUCK 92 & MY1043 RADIO – Locally Owned, Community Minded!