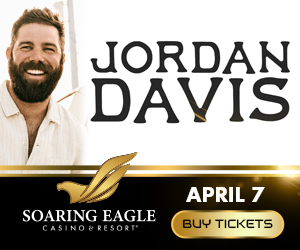 Buck 92.3/AM 830 WMMI is giving you the opportunity to win tickets to see JORDAN DAVIS, coming to Soaring Eagle Casino & Resort on Friday April 7th!
Take part in BUCK 92's "FREE TICKET FRIDAY!"  If you'd like to win a pair of tickets to the show, all you'll need to do is sign up below (18 & older). Fill out the form & click submit!
On Friday, January 27th, we'll randomly select winners from all the entries below, and post their names on www.facebook.com/buck923 (Buck 92's facebook page).  We'll reach out to our winners & congratulate them, too!
Tickets for the JORDAN DAVIS Show at the casino go on sale Saturday, January 28th, but you can Win It Before You Can Buy It, NOW…ON OUR "FREE TICKET FRIDAY" from Buck 92!