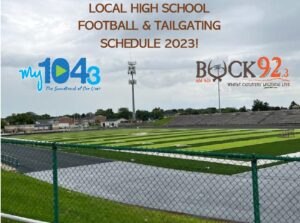 SPECIAL THANK YOU TO LOCAL TAILGATING SPONSORS:
Buck 92 presents another fall full of Local High School Football coverage!  We plan to broadcast each game (listed below–subject to change).
Games will start at 7pm with the Krapohl Ford & Lincoln Pre-Game Shows starting around 6:45pm, through Buck 92.3FM/AM830, or stream through www.buck92.com.
***YES indicates games we will be Tailgating at:
| | | | | |
| --- | --- | --- | --- | --- |
| THURS  | 8/24/2023 | ALMA @ SHEPHERD | 7PM | YES |
| FRI | 8/25/2023 | BEAL CITY @ RAVENNA | 7PM |   |
| THURS  | 8/31/2023 | MT PLEASANT @ MIDLAND | 7PM | YES |
| FRI | 9/1/2023 | ROSCOMMON @ BEAL CITY | 7PM | YES |
| FRI | 9/8/2023 | CANADA @ MT PLEASANT | 7PM | YES |
| SAT   | 9/9/2023 | SHA @ PORTLAND ST. PATS | 7PM |   |
| FRI | 9/15/2023 | MT PLEASANT @ TC CENTRAL | 7PM | |
| FRI | 9/22/2023 | LAKE CITY @ BEAL CITY | 7PM | YES |
| THURS  | 9/28/2023 | SHA @ FULTON | 7PM |   |
| FRI | 9/29/2023 | EVART @ BEAL CITY | 7PM | YES |
| THURS | 10/5/2023 | SHA @ MORRICE | 7PM |   |
| FRI | 10/6/2023 | TC WEST @ MT PLEASANT | 7PM | YES |
| FRI | 10/13/2023 | MIDLAND DOW @ MT PLEASANT | 7PM | |
| SAT   | 10/14/2023 | WEBBERVILLE @ SHA | 7PM | YES |
| FRI | 10/20/2023 | TBD (shep-Ithaca) (MP-Linden) (Beal-Harbor Beach) | 7PM | YES |
| SAT   | 10/21/2023 | SHA @ COLEMAN | 7PM | YES |
Streaming through desktop computer:
www.buck92.com
Click "Listen Live" in upper left corner
Click PLAY & audio will start 
Streaming through mobile device: 
www.buck92.com
Click 3 lines upper left of screen
Click Listen Live & Hit Play