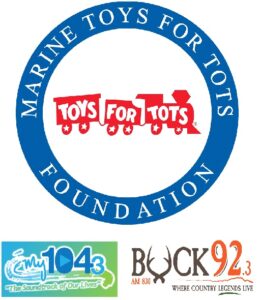 Buck 92.3/AM 830, My1043 & My Michigan Podcasts.com are proud to support our local Marine Corps TOYS 4 TOTS Program's 75th Anniversary is back for the 2022 Holiday Season!
Full details on registration, volunteers & distribution is below…If you have any questions or need answers, please reach out to their website by CLICKING HERE! OR on Facebook by CLICKING HERE!
---
DISTRIBUTION WILL BE AT THE YOUTH FOR CHRIST BUILDING IN MT. PLEASANT
(THE OLD COKE BUILDING) AT 1200 W HIGH ST, MT. PLEASANT MI, 48858!!!!
Online Registration will open on Tuesday, November 1st, 2022, thru Wednesday, December 14th, 2022.
Distribution will be Saturday, December 17th, Monday, December 19th & Tuesday, December 20th. Distribution will be by appointment ONLY again this year (You must have an appointment to receive toys). You can do a drive thru appointment on any of those days but you still MUST have an appointment.
To keep up to date on changes it is VERY important that you follow our website (https://mt-pleasant-mi.toysfortots.org/) & FaceBook page (https://www.facebook.com/Central-Michigan-Area-Toys-for-Tots-Isabella-County-Clare-Counties-MI-176107242407956/) for announcements.
• You MUST register online & receive an appointment to be able to receive toys for your children. Appointments will be 45-60 minutes long from registration to completing your shopping. If you are unable to set up an appointment or you would prefer not to come inside, we will have a drive thru option. You will still need to register & bring all of your documentation, but you will not enter the shopping area. You will return to your car once everything is verified, a volunteer will shop for your children, your toys will be bagged & delivered to your car.
• There will be multiple distribution days in order to accommodate appointments for all our families. We will have 1,200 appointments spread over 3 days. There will be multiple appointments every 15 minutes. There are a limited number of appointments for each slot so just because you request a day & time does not guarantee you will receive an appointment at that time. Drive thru can be done on any of these days, but you still need an appointment:
o Saturday, December 17th, 2022 from 9 am – 7 pm
o Monday, December 19th, 2022 from 9 am – 6 pm
o Tuesday, December 20th, 2022 from 9 am – 5 p m
• You are still only allowed to shop ONCE for your children. You cannot set up an appointment AND do drive thru.
• Only one person will be allowed in the building per family.
• ONLY the Parent/Legal Guardian can register a child
o If the parent/legal guardian cannot shop, they can designate someone else to come in their place on the registration form
o Proper documentation for both parent & child will still be required for the appointment as well as a letter giving permission to the designee to shop in the parent/legal guardian's place
• Each Family needs to be registered and have their own appointment set up.
o If you live in a split home and are unmarried, EACH person needs their own registration for their children
• No children will be allowed this year. This is to ensure that we stay within the building capacity rules.
If you have any questions concerning the program, how you can help, or how you can get help, please email Isabella.Clare.MI@toysfortots.org or Volunteer4TfT@gmail.com Marine Toys for Tots Foundation, an IRS recognized 501(c)(3) not-for-profit public charity is the fund raising, funding and support organization for the U. S. Marine Corps Reserve Toys for Tots Program. The Foundation was created at the behest of the U. S. Marine Corps and provides support in accordance with a Memorandum of Understanding with the Commander, Marine Forces Reserve, who directs the U. S. Marine Corps Reserve Toys for Tots Program. The Foundation has supported Toys for Tots since 1991. The mission of the U.S. Marine Corps Reserve Toys for Tots Program is to collect new, unwrapped toys during October, November and December each year, and distribute those toys as Christmas gifts to needy children in the community in which the campaign is conducted.
Online Registration to volunteer will be open Monday, November 1st, 2022, thru Wednesday, December 14th, 2022. Distribution will be Saturday, December 17th, Monday, December 19th, & Tuesday, December 20th. Below are the days and times we will need volunteers to help. You will need to sign up for EACH day and time you would like to volunteer for. If you are signed a group up, you will need the name for ALL volunteers and when they will be volunteering. IF YOU HAVE A GROUP YOU WOULD LIKE TO BRING IN TO VOLUNTEER, PLEASE EMAIL Volunteer4TfT@gmail.com. Our volunteer coordinator will email you back to get everything set up.
• There will be TWO set up days, THREE distribution days, and ONE clean up and pack day. There are a limited number of volunteer slots for each time frame, so if the time you would like is not an option it is because that slot if full & you will need to choose another time. Thursday, December 15th, 2022, from 4 pm – 9 pm – SET UP
• Friday, December 16th, 2022, from 9 am – 6 pm – SET UP
• Saturday, December 17th, 2022, from 9 am – 7 pm – DISTRIBUTION
• Monday, December 19th, 2022, from 9 am – 6 pm – DISTRIBUTION
• Tuesday, December 20th, 2022, from 9 am – 5 p m – DISTRIBUTION
• Wednesday, December 21st, 2022, from 9 am – 5 pm – CLEAN & PACK UP