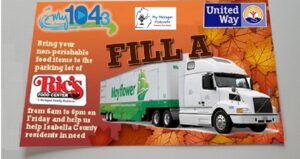 On behalf of Buck 92, My1043, MyMichigan Podcasts.com, United Way of Gratiot and Isabella Counties and all of their amazing volunteers, Sowle Mayflower, I-Ride and Rics Food Center want to say a huge THANK YOU to each & every one of you for doing your part in helping us FILL A MAYFLOWER this year!
On Friday, November 18, 2022…from 6am until 6pm, Rics Food Center on Mission & High in Mt Pleasant was a flurry of activity as you stopped by with your non-perishable food items, care store items, and cash donations for those in need in our community.  To Rics for their promotion of the HI FIVE TURKEY DRIVE and donating well over 100 turkeys & hams thanks to your generous donations.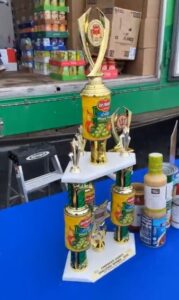 We had fun during this cold 12 hours of caring, too…with our CORPORATE CHARITY CHALLENGE (the group or business who raised the most went to Veterans4USA who brought in well over 10,000 items alone). They scored this amazing trophy (compliments of JNR Engraving in Mt Pleasant) and some fun bragging rights for the next year.  But all in all, their coordinator, Iron Mike Rodgers said its all about feeding and taking care of our own people in our own backyard.
For those who would still like to donate cash, you can by texting the word MAYFLOWER to 4-1-4-4-4. (please and thank you for your generosity).
To those who utilized our local I-Ride service with the "Food for Fare" (1) day event, we appreciate you all!  For all of your local in town transportation needs, call the I-Ride line at (989) 772-9441. Thanks to Rick & the entire staff at I-Ride for their part in this annual event. We're beyond grateful for this partnership.
Now, thanks to United Way for distributing to our local food pantries, many folks & families will be able to benefit from your generosity this holiday season & beyond.  Those pantries who will be giving back to our community with your donations include:
COMMUNITY COMPASSION NETWORK
REAP IN ROSEBUSH
ST VINCENT DEPAUL IN SHEPHERD
THE POTTERS HOUSE
THE CARE STORE IN MT PLEASANT  (non food items; household & personal care items)
Coming together as a community is what this is all about!
HAPPY THANKSGIVING & HAPPY HOLIDAYS from Buck 92, My1043 & MyMichiganPodcasts.com – Home of Latitude Media – Locally Owned, Community Minded!