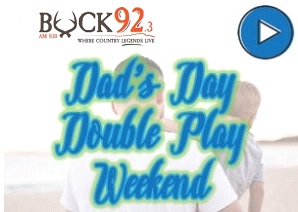 Can you believe we're almost halfway through 2022?  Fathers Day weekend is approaching and BUCK 92/AM 830 WMMI is making things as normal & fun as possible for you & DAD this year.
Join BUCK 92 as we honor him with our "Dads Day Double Play Weekend!" The fun starts Friday (6/19) at 3pm.  At the beginning of each hour, we'll play (20 songs for your DAD!
Whether it's (2) songs you want to dedicate to dad OR your dads (2) favorite songs back to back, we'll showcase them, all weekend!
****WE ARE FULLY BOOKED FOR THIS WEEKEND!!!! THANK YOU!!!!!****
FRIDAY 6/17/22 
5PM HOUR:  DAD:  DARREN STARKEY  (Tonia, Damon) Shepherd (songs: Love You Out Loud – Rascal Flatts & I Can't Get Close – Exile)
6PM HOUR:  DAD:  RANDY HENRY (Zachary, Moe & Jamie) Shepherd (songs: Hard Workin Man – Brooks & Dunn & Unwound – George Strait) 
7PM HOUR:  DAD:  ROB PERRY (Dana-daughter) Mt P  (songs: Except for Monday – Lorrie Morgan & Do What You Want – Foster & Lloyd)
8PM HOUR:   DAD:  DENNIS DEMERATH (Tyler, Cheri & Paule) Alma (songs: Wink – Neal McCoy & I Know Where I'm Going – The Judds)
9PM HOUR:   DAD:  ROGER SILTER  (Jacob, Robyn – sons)  Clare  (songs: Tennesse Flat Top – Roseanne Cash & Would You Catch – John Anderson)
10PM HOUR:  DAD:  CHRIS WOODROW (Grayson-son) Mt P (songs: Guitar Town – Steve Earle & In America – Charlie Daniels Band)
11PM HOUR:   DAD:  DAN BLARNCH (Crissy, Michael) Rosebush (songs: Midnight Girl – Sweethearts of the Rodeo & She's More – Andy Griggs)
SATURDAY 6/18/22
6AM HOUR:   DAD:  CHARLIE TULLMAN (Traci, Shawn-kids) MT P  (songs: Somewhere Between – Earl Thomas Conley & Angel of the Morning – Juice Newton)
7AM HOUR:   DAD:  BRAD OWEN (Sawnya, Wendel, Garrison) Mt P (songs: Money in the Bank by John Anderson & Mind Your Own Business – Hank Williams, Jr.)
8AM HOUR:   DAD:  HENRY LIVINGSTON  (from Earl & Gretchen; kids)  Shepherd  (songs:  Timber I'm Falling – Patti Loveless & High Horse – Nitty Gritty Dirt Band)
9AM HOUR:   DAD:  DALLAS WESTRICK (Abbie, MiKayla, Olivia) St. Louis (songs: God Bless Texas & The Closer You Get – Alabama)
10AM HOUR:  DAD:  CHARLES EVERETT (Eric, Ericka, Evan) Weidman (songs: Margaritaville – Jimmy Buffett & I'm Gonna Miss You – Michael Martin Murphy)
11AM HOUR:  DAD:  RALPH SMITH  (Regina-step daughter) Coleman (songs: Why Not Me – The Judds & The Weekend – Steve Wariner)
12PM HOUR:   DAD: MARK UNDERWALL  (Jaxon, Nick, Tyler & Danny) Mt P (songs: Be My Baby Tonight – John Michael Montgomery & Friday Night Blues – John Conlee)
1PM HOUR:  DAD:  PETER KRUMPALL (Benji, Tony & Danita) Alma (songs: Who's Your Daddy – Toby Keith & I Can't Win for Losing – Earl Thomas Conley)
2PM HOUR:  DAD:  DUSTY TERWILLIGER  (Alysha, Kenzi)  Farwell (songs: What About Now – Lonestar & Love's Been a Little – Juice Newton)
3PM HOUR:   DAD:  ALAN SIZZMORR  (Henry, Jaxon, John) MT P (songs: Blame It On Your Heart – Patti Loveless & Mona Lisa – David Allan Coe) 
4PM HOUR:   DAD: PATRICK HERNANDEZ  (Lily & Sam) Beal City (song:  Dreamin with My Eyes – Clay Walker & Got No Reason – Gene Watson)
5PM HOUR:  DAD:  ALEXANDER CHILDERS  (Nichole & Lydea) Alma (song: Gonna Get A Life – Mark Chestnutt & Still Talking Changes – Michael Martin Murphy)
SUNDAY 6/19/22:
9AM HOUR:  DAD:  BILL CHAPIN  (Dustin, Alison & Troy)  MT P  (songs: One More Last Chance – Vince Gill & Wish I Had a Heart – Ballie & the Boys)
10AM HOUR:  DAD: STEVEN GUNN (Bailee, Cristina & Kory) Shepherd (songs: The Call of the Wild – Aaron Tippin & Give Me One Chance – Exile)
11AM HOUR:   DAD:  MORGAN HEINTER  (Robbie, Sara, Todd)  MT P (songs: A Better Man – Clint Black & Come Next Monday – KT Oslin) 
12PM HOUR:   DAD: JACK VORRABER  (Kellie, Aiden & Heather) Shepherd (songs: That Summer – Garth Brooks & 1959 – John Anderson)
1PM HOUR:  DAD:  PERRY MOORELAND (Cherie, Jon & Bucky) St Louis (songs: Texas – Tanya Tucker & Good Ole' Boy – Steve Earle) 
2PM HOUR:   DAD:  RANDY PAULSON (Jeremiah & Sammy) Mt P (songs: Bop – Dan Seals & I Couldn't Leave You – Rodney Crowell) 
3PM HOUR:   DAD:  RICHARD COLEMAN (Lori, Kerri, Joey) Rosebush (songs: Midnight Rider – Allman Brothers & Drinkin' My Baby Away – Charlie Daniels Band)
4PM HOUR:   DAD:  TYLER OWENS (Garrett, Tommy) Beal City  (songs: Islands in the Stream – Kenny/Dolly & Baby's Gotten Good – George Strait) 
5PM HOUR:   DAD:  STEVE BYSLANG (Josiah, Jodi, Jeremy & Jenna) Midland (songs: A Jukebox – Doug Stone & Love Reunited – Desert Rose Band)
It's all part of the BUCK 92 "Summer of Fun!"