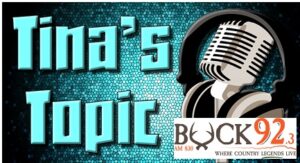 Great News!  If you'd like to catch up on what's going on within non-profit organizations here in Mid-Michigan, this is the place for "The Topic" with Tina Sawyer.  These shows air on Sunday Mornings from 6-6:30am here on Buck 92.3/AM 830 WMMI.
Below, you can hear the "podcast" version of each of these shows.
If you are a non-profit in town that would love to get your story out there on the air:
Email Tina (tina@wczy.net) or call her (6am-2pm) M-Friday at (989) 779-1043 or (989) 772-9664!
---
Season #1 – Episode 1:  Sue Ann Kopmyer from Isabella County Parks & Rec (7/2021)
Click Here for Parks & Rec podcast
Season #1 – Episode 2:  Kim McBride & Julia from The Care Store in Mt Pleasant (7/2021)
Click Here for Care Store Podcast
Season #1 – Episode 3:  Annie Sanders from United Way of Gratiot/Isabella Counties (7/2021)
Click Here for United Way Podcast
Season#1-Episode 4: Justin Walls from Mid Michigan Community Action Agency (8/2021)