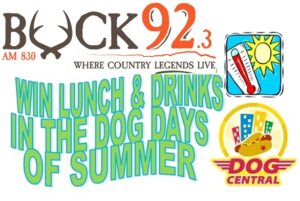 Buck 92.3/AM-830 WMMI & Dog Central in Mt. Pleasant are giving you the chance to get some "relief" during these Dogs Days of Summer!
All throughout the month of August you can score a (24) pack of Hot Dogs AND a (24) pack of Ice Cold Water (courtesy of Dog Central in Mt Pleasant).
Hot food & some Cold beverages to keep you going through all the heat & humidity and a "cool" treat from BUCK 92 could be coming your way.
Sign up below to win! Whether you're working hard outside in the hot sun or are working in a hot office or if you have a hot job…we want to bring the goodies to you!
We'll announce weekly winners on the BUCK 92 Facebook page.