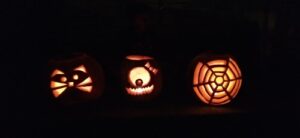 Buck 92.3 WMMI is keeping you in the loop on Trick or Treat times here within Mid- Michigan, for 2021!  If you have any times and locations to add to this list, send us an email to let us know.
Don't forget to join us FOR FREE, fun, indoor trick-or-treating at the Boo Bash on Saturday, October 30th, starting at 3pm, at Isabella County Fairgrounds!  
Click Here for your Halloween Trick or Treating Safety Tips!
(Times are subject to change…keep checking back for info)
TRICK OR TREAT TIMES:
Alma– Oct 30th, 5:30-7:30pm
Beal City– Not yet posted
Clare – Oct 31st, 6-8pm
Coleman– Oct 31st, 6-8pm
Farwell– Oct 31st 5:30- 7:30 pm
Harrison– Oct 31st, 5:30-7:30pm
Mt. Pleasant– Oct 31st, 6-8 pm
Rosebush– Oct 31st, 6-8pm
Shepherd – Oct 31st, 5:30 – 7:30 & Trunk or Treat
Weidman– Oct 30th, 3-6:30pm Trunk or Treat at
Chippewa Hills High School