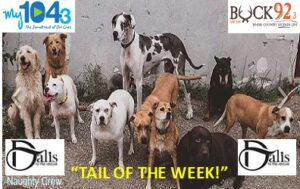 Buck 92.3-FM/AM 830 WMMI and Dalis to the Rescue are giving you the chance to become forever parents to a furry little friend here in Mid-Michigan!
Each Friday morning, we showcase a pet that's up for adoption from Dalis (around 7:50) on the Buck 92 Facebook page!
Mention you heard about the weekly TAIL from Buck 92 & receive $ off your adoption fees, through Dalis to the Rescue. These pets need you just as much as you need them!
MY1043 & Dalis to the Rescue THANK YOU for doing your part to help these animals here in Mid-Michigan!