The All New Buck 92 "5 O'CLOCK COOL COUNTRY 12-PACK!"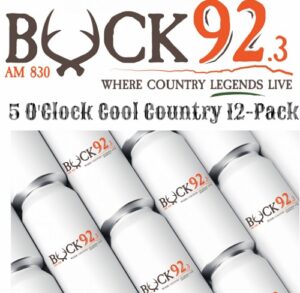 Getting off of work & riding home has never been more fun than with Buck 92's newest feature "The 5 O'Clock Cool Country 12-Pack!"  When the workday is done & you need an excellent stress reliever, tune in as we roll out (12) fun, sing-a-long and upbeat songs!
You can make a request (or 2) and we'll do our best to get them on the air for you during this hour.
Requests can be made through:  Facebook.com/Buck92Radio OR by emailing us at shawn@wczy.net.
The "Cool Country 12-Pack" is brought to you locally through Doozie's Ice Cream Place (on Pickard-Mt Pleasant)! Buckle up & enjoy the ride – with the "5 O'CLOCK COOL COUNTRY 12-PACK" right here on the ALL New, Buck 92!