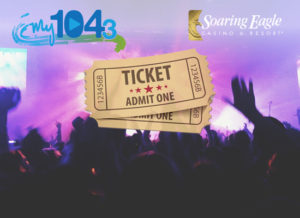 Outdoor concerts are back in full swing & Buck 92 has teamed up with Soaring Eagle Casino & Resort to give you the chance to be part of the concert experience!
Follow Buck 92 on Facebook (facebook.com/buck92radio) weekday mornings for your opportunity to answer the daily Burning Question! Answer it & qualify to win tickets to the following shows:
*7/27, 7/28, 7/29 – Win tickets to see Keith Urban on August 28th!
*8/9, 8/10, 8/11, 8/12 – Win tickets to see Tim McGraw on September 18th!
For tickets & complete info, click here!