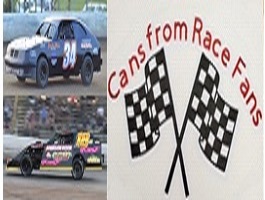 Buck 92/AM 830 WMMI, My-1043, & MyMichigan Podcasts.com invite you out to the 14th annual "Cans From Race Fans" Event!
Saturday April 15th from 10am til 2pm @ Rics Food Center Parking Lot (at the corner of Mission & High/Mt Pleasant)!  Bring your non-perishable food items and cash donations  that will then be donated to the Isabella Community Soup Kitchen to help those less fortunate in our community.
If you bring out 50 lbs or more, you'll receive a free ticket to Crystal Motor Speedway to see some free racing that night (courtesy of the Speedway).
Local Race fans have been putting on this event for the past 14 years & believe wholeheartedly in this cause & love giving back to our community in this mighty way. They love it when you show your support in this mighty mighty way, too!
If you're a racing fan, bring out your race cars, meet the drivers and have a ton of fun!