BUCK 92.3/AM830 WMMI — out and about here in Mid-Michigan in 20-21!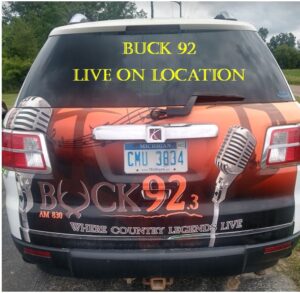 As things begin to re-open here in Mid-Michigan, you will see more LIVE Events popping up here on this page. 
THRILLING THURSDAYS w/ Mt Pleasant Parks & Rec and My1043/Buck 92 radio!  Starts Thursday, June 24th (6-8PM) – Chris Spachman downtown (at different locations, each week is different theme). Bring the family down & enjoy that weeks activities. (Complete list on the Thrilling Thursday main page here @ my1043.net)!
SATURDAY – JULY 17, 2021 (10am-12pm) Join Tina Sawyer at Andersons & Girls Orchards (in Stanton) for Animal Enrichment Day!  Celebrate with the farm/zoo and give back to the animals that entertain & educate our community. Reptile Specialist, Sharon Marsh will be there with some of her fav reptiles, hands on!
MONDAY – JULY 26, 2021 (7PM) – Hometown Showdown 2021 @ the Isabella Co. Fairgrounds/Grandstands! This FREE event showcases many talented local individuals vying for the cash grand prize! (Check our main page for audition rounds & full details)!
ISABELLA COUNTY FAIR INFO ON THE ISABELLA CO FAIR PAGE THRU MY1043.NET!
FRIDAY, AUGUST 6, 2021 (12pm-4pm) @ Island Park for "Play It Safe" Kids Safety Day! Tina Sawyer (12-2pm) & Chris Spachman (2p-4pm) LIVE – complete details on Play it Safe page thru my1043.net!
FRIDAY – SEPTEMBER 17, 2021 (7PM) – My1043's Annual Diggin For Glo Dough @ Island Park (Sand Volleyball Courts)!  Enter, be a finalist & dig in the sand for prizes, including the grand prize of $1,043 in COLD HARD CASH!  Details forthcoming!
OCTOBER 2021 – BOO BASH!  Location & times TBD!
FRIDAY – NOVEMBER 19, 2021 (6am-6pm) – My1043's "Fill a Mayflower" Event happening at Rics Food Center (Mission & High)! Collecting Non-perishable food items & cash for those in need in our area during the holiday season!  Details forthcoming!