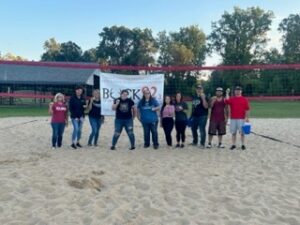 My1043, Buck 92, The Bird Bar & Grill & MyMichiganPodcasts.com PRESENTED "Diggin 4 Dough 20-23" at Island Park on Friday evening, September 15th, 2023!
All contestants had their ball dug up within a few minutes (record time).
We also appreciate everyone who came out to spectate this momentous occasion, as well.
CLICK HERE TO LISTEN TO THE AUDIO OF OUR GRAND PRIZE WINNER! 
CONTESTANTS & THEIR PRIZES:  
Emily Fussman  ($1,043 cash from The Bird Bar & Grill)
April Hunter  (Columbus Tree gift card & metal pumpkin)
Jeff Ablin  (A couples massage from Massage Central)
Whitney Henry  (complete auto detail from Krapohl Ford & Lincoln)
Josh Gardner  (18 holes of golf for 4-with cart from Pleasant Hills Golf Club)
Stephanie Prout  ($70 gift card & T-Shirt from Jons Country Burgers)
Kristen Sixberry  (2 tix to Jay Leno/Aresenio Hall/casino(12/8)from Omlettes & More)
Robert Chandler  (2 tix to see HUNKS/casino(11/17) from Soaring Eagle
Theresa Clemetson  (2 oil changes from McDonald Chrysler Jeep Dodge Ram)
Chari Pasch  ($100 to Taco Boy courtesy of The Forum Apartments)
A special THANK YOU to all of our local business supporters this year: (click on each to be directed to their websites):
We are looking forward to Diggin 4 Dough 20-24!