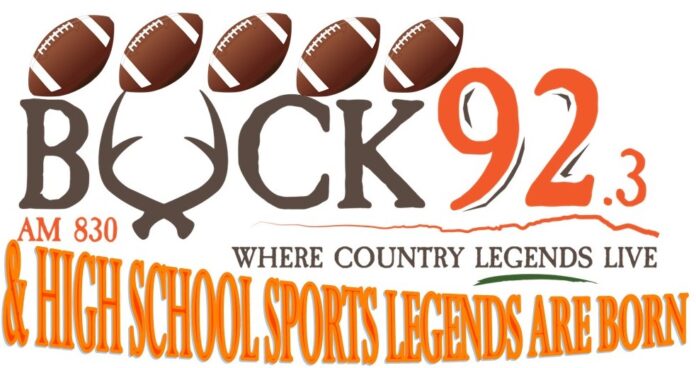 The excitement is in the air for the return of Local High School Football here in Mid-Michigan!
Join Chris Spachman and Brett Hyble this season for play by play action on Buck 92.3/AM 830 and or streaming through www.buck92.com!  This year we are also proud to be partnering with the Gratiot Isabella Technical Education Center to bring you video coverage at Buck92's Facebook page!
Look for My-1043, Buck 92.3FM/AM 830 WMMI & MyMichiganPodcasts.com as we TAILGATE an hour before kickoff!  Tailgating schedule is below the broadcast schedule!
2022 BROADCAST SCHEDULE:
| | | | |
| --- | --- | --- | --- |
| THURS | 8/25/2022 | MORRICE @ SHA | 7PM |
| FRI | 8/26/2022 | BEAL CITY @ RAVENNA | 7PM |
| THURS | 9/1/2022 | SANFORD MERIDIAN @ SHEPHER | 7PM |
| FRI | 9/2/2022 | MIDLAND @ MT PLEASANT | 7PM |
| FRI | 9/9/2022 | VESTABURG @ SHA | 7PM |
| FRI | 9/16/2022 | TC CENTRAL @ MT PLEASANT | 7PM |
| FRI | 9/23/2022 | BAY CITY WESTERN @ MT P | 7PM |
| SAT | 9/24/2022 | WEBERVILLE @ SHA | 7PM |
| FRI | 9/30/2022 | PINE RIVER @ BEAL CITY | 7PM |
| FRI | 10/7/2022 | MT P @ TRAVERSE CITY WEST | 7PM |
| FRI | 10/14/2022 | MT PLEASANT @ MIDLAND DOW | 7PM |
| FRI | 10/21/2022 | CASS CITY @ BEAL CITY | 7PM |
| ***PLAYOFFS BEGIN HERE | | TO BE DETERMINED | |
2022 TAILGATING SCHEDULE (1-Hour before Kickoff):
TAILGATING SPONSORED LOCALLY THROUGH:  Fisher Companies, Heritage Collision, Mercantile Bank, Soaring Eagle Waterpark & Hotel and the Mt Pleasant Convention & Visitors Bureau
| | | | | |
| --- | --- | --- | --- | --- |
| THURS | 8/25/2022 | MORRICE @ SHA | 7PM | TG |
| THURS | 9/1/2022 | SANFORD MERIDIAN @ SHEPHERD | 7PM | TG |
| FRI | 9/2/2022 | MIDLAND @ MT PLEASANT | 7PM | TG |
| FRI | 9/9/2022 | VESTABURG @ SHA | 7PM | TG |
| FRI | 9/23/2022 | BAY CITY WESTERN @ MT PLEASANT | 7PM | TG |
| SAT | 9/24/2022 | WEBERVILLE @ SHA | 7PM | TG |
| FRI | 9/30/2022 | PINE RIVER @ BEAL CITY | 7PM | TG |
| FRI | 10/7/2022 | MERRILL @ SHA | 7PM | TG |
| FRI | 10/14/2022 | MT PLEASANT @ MIDLAND DOWN | 7PM | TG |
| FRI | 10/21/2022 | CASS CITY @ BEAL CITY | 7PM | TG |
| | | | | |
| | | | | |
| | | | | |
| | | | | |