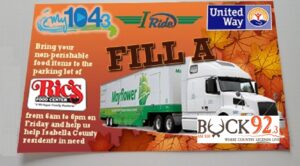 MY1043, Buck 92 & the United Way of Gratiot and Isabella Counties and all of their amazing volunteers, Sowle Mayflower, and Rics Food Center are ALL grateful for the outpouring of love we had from our community on Friday (11/19) for our "Fill A  Mayflower" Event!
Annie Sanders, President & CEO of United Way of Gratiot & Isabella Counties said we raised $18,000 CASH (doubling last years $9K-cash) & almost 7000 non-perishable items!  Annie says "I cannot begin to tell you how much we appreciate this event and what it means for our community.  We are beyond grateful for our partnership – not only through this event, but throughout the year as well.  We are so lucky to have My 1043 and Buck 92 in our community!"
Special thanks to Andrew, Katie & Brenda from Advanced Detailing & Auto, for going through our community & asking more than (33) local small businesses to par-take in this years event…they alone raised $8,600.  Mid-Michigan Health raised over $3,100 in cash alone, not to mention all the other donations from local businesses & YOU!
We came off this year with a record # of cash and record # of non-perishable & personal care items (grand total coming soon from United Way)!
Corporate Charity Challenge winner was Advanced Detailing & Auto.  They say they are going to allow the trophy from JNR Engraving, go around & be displayed in the local smal l businesses they took donations from.
I-Ride of Isabella County – for hosting their "Food for Fare" again this year!
Ric's Food Center for their LARGE donation of Turkeys for the "Hi-Five Turkey" Drive, with over 140 donated & a substantial cash donation to the cause, as well.
To each of our "hourly" sponsors throughout the day, who sponsored an hour with a $250 cash donation.
To the countless # of people who worked behind the scenes, collecting, sorting & distributing the food.
Your donations this year were able to serve (6) local food pantries, including:
Community Compassion Network (at the Strickler Center)
Salvation Army
Potters House
St. Vincent De Paul in Shepherd
REAP in Rosebush
The Care Store (at the Strickler Center)
HAPPY THANKSGIVING & HAPPY HOLIDAYS from each of us to you, this season…
MY1043, & Buck 92.3 WMMI – Home to Latitude Media – Locally Owned, Community Minded!