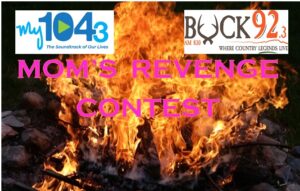 My-1043 & Buck 92.3 radio are giving moms permission this holiday to get "sweet revenge" on their kids!
It's a fun & friendly way to get back at your kids for all those times they've embarrassed you…now it's your turn to embarrass your kids (and not in a malicious way).
Congrats to our Grand Prize winner:
Myself, 2 daughters and their friends were prom dress shopping… We were in JC Penny. There was an group of 4 guys also looking for clothes.. The girls were all gigglie and staring at them…. We left and was driving down mission Rd.. When low and behold said boys pulled up next to us on the passenger side of the car… The girls went all crazy,, I started waving at them behind the girls, they started smiling and waving back… The light changed they went on their way, the girls were all giddy they were waving at us!! I said NO they were returning my wave back…   I was waving at them first, One off the greatest days and memories to treasure with my girls. Tyger And Kayla.
She now wins the gift card from Laphams Nursery & Garden Center and a full massage from Massage Central in Mt Pleasant! 
Here are the other finalists:
When my oldest was about 2-3 years old (who is now 45) he would ask every man he saw in the store if they wanted to come home with us!!! I was mortified, they just laughed. This same son as we were driving through Beal City and the priest was standing on the steps outside the church pipes up with LOOK GODS LETTING ALL THE PEOPLE IN!!   Yup that's my boy.
My son was young and we were grocery shopping. He said Beep Beep your to big we can't get past you  we definitely went the other way.
My bloodhound pooped on the dog groomer when she was trimming her nails. I only have furkids
My son Pie Heresy asked Santa Clause for a grilled cheese sandwich one year!!!! Lol
My son would open new white T shirts and lay them out too pick out the whitest one.
My son was 2 years old, we were at a wedding reception, sitting next to us was a woman wearing "A LOT" of makeup.. My son yelled (and kept yelling) "a clown Mama", "Mama a clown" as he tried to crawl into my body. LOL
My daughter who also was 2, a bearded man (our neighbor) had pulled into my mom' s driveway to talk to her. He was a jolly man, my daughter said "Gramma Jesus laughed. The neighbor said he had been called many names in his life, but never Jesus.
I was single with a then 7 year old daughter who wanted a Dad. There was a man in the grocery line in front of us, very few people in the store, and he was buying steak. My daughter said, in a very loud voice, "Boy, we LOVE steak, don't we Mom"! The cashier burst out laughing, the man grinned and hurriedly paid for his steak with his married ring finger evident, and I unsuccessfully tried to distract my daughter with the candy while my cheeks were burning up! Lol