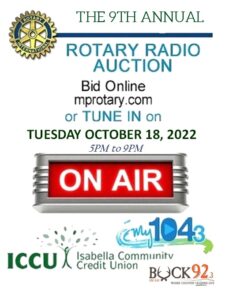 Buck 92.3/AM 830 WMMI, My1043 & The Mt. Pleasant Rotary Club presents the annual "Rotary Radio Auction!" This year, it will take place on Tuesday, October 18, 2022 from 5PM-9PM at the studios of My1043!  My1043 radio personalities will serve as your hosts, along with Rotarians and CMU broadcasters.
Bidding on this years items (that have been donated by local community members), will begin on Sunday (10/16 @ 12-Noon)!
Check out all the items by CLICKING HERE!
Lots of awesome items will be up for auction at this years event.
All of the money raised will go towards the local and international programs the Rotary supports.  Thousands dollars were raised last year. Bid early, bid often & good Luck!