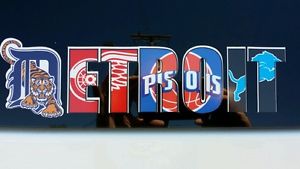 While the rosters may be similar to last year…The sidelines will not be for the Detroit Pistons and Lions.  The good news…Both coaches that were brought in were highly coveted by many teams, and they chose to come to Detroit.
Matt Patricia may have been able to hand pick his job as defensive coordinator of the Patriots over the last several years.  After some controversy after his hire, it appears that Patricia will continue to bring the "Patriot Way" to Detroit as we continue to hire away from New England.  First it was GM Bob Quinn, and now Patricia.  A couple thoughts here…His defense did just give up the most yards in Super Bowl history.  The other thought, before being a football coach Patricia was a rocket scientist…No joke.   That makes me feel like he is qualified for any job in the world, even Detroit Lions football coach.
Dwayne Casey, the pistons hire should have not even been available, as he just won Coach of the Year.  Not last year…This year! He lead the Toronto Raptors to their best regular season ever and a #1 seed.  After being eliminated by Lebron James once again; Toronto decided to make a move.  The Pistons lead an exhaustive coaching search even interviewing lifer college coach John Beilein who ultimately stayed with Michigan.  Casey will go from having a strong back court, to having a strong front court.  Only time will tell if Drummond Griffin, and Jackson can be a force, but Dwayne Casey maybe the guy to make them a viable "big 3" in the NBA!
So while the Tigers somehow hang around in the AL Central;…here is something to look forward to this fall!